There are many details behind a pair of shoes to ensure the quality
Gradually and carefully made shoes have a soul. The process of making a pair of shoes by hand is more complex than people think. The shoes I make are different from most sneakers on the market (made by factory machines). The shoes in my shop are made by me carefully from the very beginning, from the selection of the materials (upper, lining, midsole, outsole) to the highest standards.
There are a small mountain of defective products from the shoe making process in my workshop
I kept improved the shoes in all the ways every year. My friends said I am a bit psycho because every time I finish the advanced version of the shoe, I will stop selling the old version even though Backlogged inventory and lost a lot of money. Because I feel like I always want to send the best and perfect shoes to my customers. (When the new version coming, then the old version is not perfect any more). So there are mountains of defective pieces that I'm not happy with that I will never ship them to my customers forever.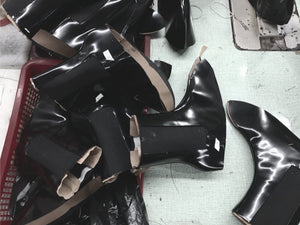 I don't know how many shoes trees I made in my studio. It is the sole of a shoes. For example, there are two pairs of shoes, the design and the material are same, but the feeling of the shoes are totally different. So adjusting the shoe trees is the most important process for me to make good shoes.